We Want Children At Sri Saradha To Learn, To Lead, And To Make A Difference.
Providing quality education enriches the mind of the children with knowledge, and moral and ethical values, thus paving way for the all-around growth of the child to be a good human being. Striving to make them aware of the greatness of our country, its varied heritage, spirituality, and culture, so that these can be passed on to the next generation
Enrich the individual by bringing out the BEST in him/his hidden potential, talents, and abilities to be a confident and strong human being to face the challenge of living competitively
The history of our school dates back more than 6 decades. Srimathy Unnamalai Thayammal was the wife of the prominent industrialist, who founded The Tamilnad Mercantile bank, Tuticorin Spinning mills, Sinnamani Unnamalai orphanage, and school. Srimathy Unnamalai Thayammal started a forum called Sachidhanandha Sabai to give awareness to the Hindus about their religion. She also formed a trust called Unnamalai Thayammal Sangam which donated funds to educate the poor in society. Her daughter-in-law Mrs. Padmavathy wife of her only son Mr. Ganesan, inspired by her Guru Swamy Chithbhavanandha, started a preschool called Sri Saradha Siruvar Kalikoodam, the first of its kind in the whole district to inculcate our culture in the very young age of 3and 4. This has been functioning for the past 60 years, and it has further blossomed into Sri Saradha nursery and primary school, with many extra-curricular activities and an education system based on CBSE..
Sri Saradha Nursery and Primary School is a prominent member of A.M.M.S group of institutions founded by the illustrious industrialist Late Sri A.M.M.Sinnamani Nadar of Tuticorin. Mrs. Subathra Vetrivel a well-known educationalist known for her piety and belief in traditional values takes a keen interest to impart education in and around Tuticorin. The aim of our school is, "WE GIVE ROOTS TO GROW AND WINGS TO FLY". Based on this, the school takes great interest in the student's spiritual and moral values, exposing them to multifarious activities where excellence is driven by values and modernity is fortified by tradition thereby helping the student to be responsible citizens of the nation.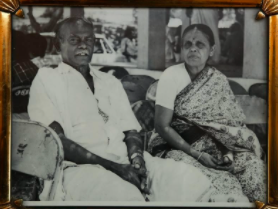 Mr. Ganesan Nadar & Mrs. Padmavathy
The Ganesan Padmavathy Educational Trust was formed in the name of Mr. Ganesan Nadar and Mrs. Padmavathy, parents of Mr. Vetrivel.
Sri Lalitha Vidhyalaya was established in a spacious hassle-free site in Ramachandrapuram under Ganesan Padmavathy Educational Trust in the year 2016.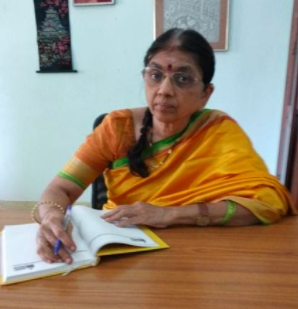 Mrs. Subathra Vetrivel
Mrs. Subathra Vetrivel is an arts graduate and is the managing trustee of the school. She is highly accomplished in managing organizations, especially in the educational field. Deeply sensitive to children's needs, she has fostered an environment wherein children's innate talents are brought out and appreciated, leading to confident, outspoken children with a solid sense of worth within them.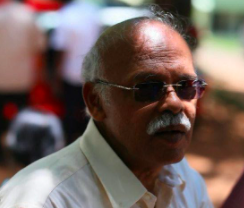 Mr. G. Vettivel
Mr. G. Vettivel is an engineering graduate and a pioneering industrialist from Tuticorin. He has invaluable experience in running large organizations and a very good understanding of workforce psychology. He is a brilliant tactical leader with unsurpassed implementation skills. He is one of the most accomplished industrialists of Tamil Nadu.
Mr. Ilango Vetrivel
Mr. Ilango Vetrivel is an engineering graduate and runs a multi-disciplinary engineering organization in Chennai. He is a fourth-generation industrialist and entrepreneur with wide experience in managing large and complex projects. He is also President of the Tuticorin Educational Society which runs Kamaraj College in Tuticorin. This institution has made great strides in the recent past and strives to become one of the foremost colleges in Tamil Nadu.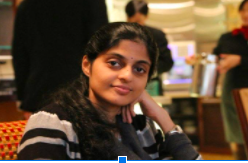 Mrs. Anitha Ilango
Mrs. Anitha Ilango is a science graduate from Mount Carmel College, Bangalore. She has good experience in the art of nurturing children, as part of her degree program. She handles finance in her professional capacity and has a keen interest in sports, dancing, and baking.